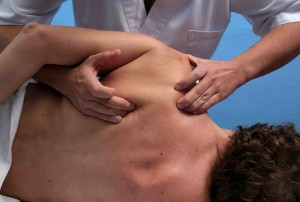 Deep tissue massage can break up and eliminate scar tissue from previous injuries. A common problem is that stressed muscles can block nutrients and oxygen from getting to where they need to go, and this will cause inflammation that allows toxins to build up in your muscle tissue. The inflammation and toxins contribute to pain and stress. Deep Tissue Massage breaks up and releases the built-up toxins by loosening the muscles. With the toxins released, blood and oxygen can circulate as they should through one's body. Being properly hydrated before you go to your physical therapy appointment and drinking plenty of water after one of these treatments is highly recommended.
For built-up tension and chronic knots (adhesions) deep tissue massage is just one part of the treatment. If you do not exercise, correct your posture, and/or employ relaxation techniques along with Deep Tissue Massage you may not get the full benefits from your treatment. One of the most important things to remember to do when getting a Deep Tissue Massage is to breathe deeply during the session and while relaxing afterwards. Oxygenating the muscles will help the massage do its work and ease discomfort.
Treatment is by appointment only click here for the booking form. You can also contact Mark Mc Cormick at 0862783627 or email Mark at muscleworxnmt@yahoo.ie.